NOT ANY ORDINARY SUNGLASSES
We at Jabrock are focused on the rule that if you are going to do something, do it to an exceptional standard.
'There is simply no point in blending in'
Through inspiration of extreme materials, intricate details, creativity, stories and adventure we want to produce extraordinary eyewear. Eyewear that harnesses details and emphasises that the journey is where the thrill lies, and the unknown is where we learn.
The human touch is always admired and from the start our frames have always been hand made.
We've created sleek and slender eyewear designs through a well explored crafting process, encompassing a pinstripe look in frame construction due to the attributes of the material.
All this has allowed us to produce what we think are a unique range of sunglasses.
During our development we went through various construction methods to find out the best and most efficient way to produce the frames.
In the end we came up with a twenty stage production process which ensures that we provide a reliable, durable and perfected product.
Jabroc® was Initially applied to Formula 1 cars in 1994 for safety reasons. Since then it has been used on all modern day racing cars that rely on downforce in order to control the level of the car on track. We believe its first main use was on the world war 2 Spitfire airplane, to construct the propellers.
Jabroc® wood has half the strength of steel at only 80% of its weight, as strength and weight play an important role in motorsport. We consider it the carbon fibre of the wood-world.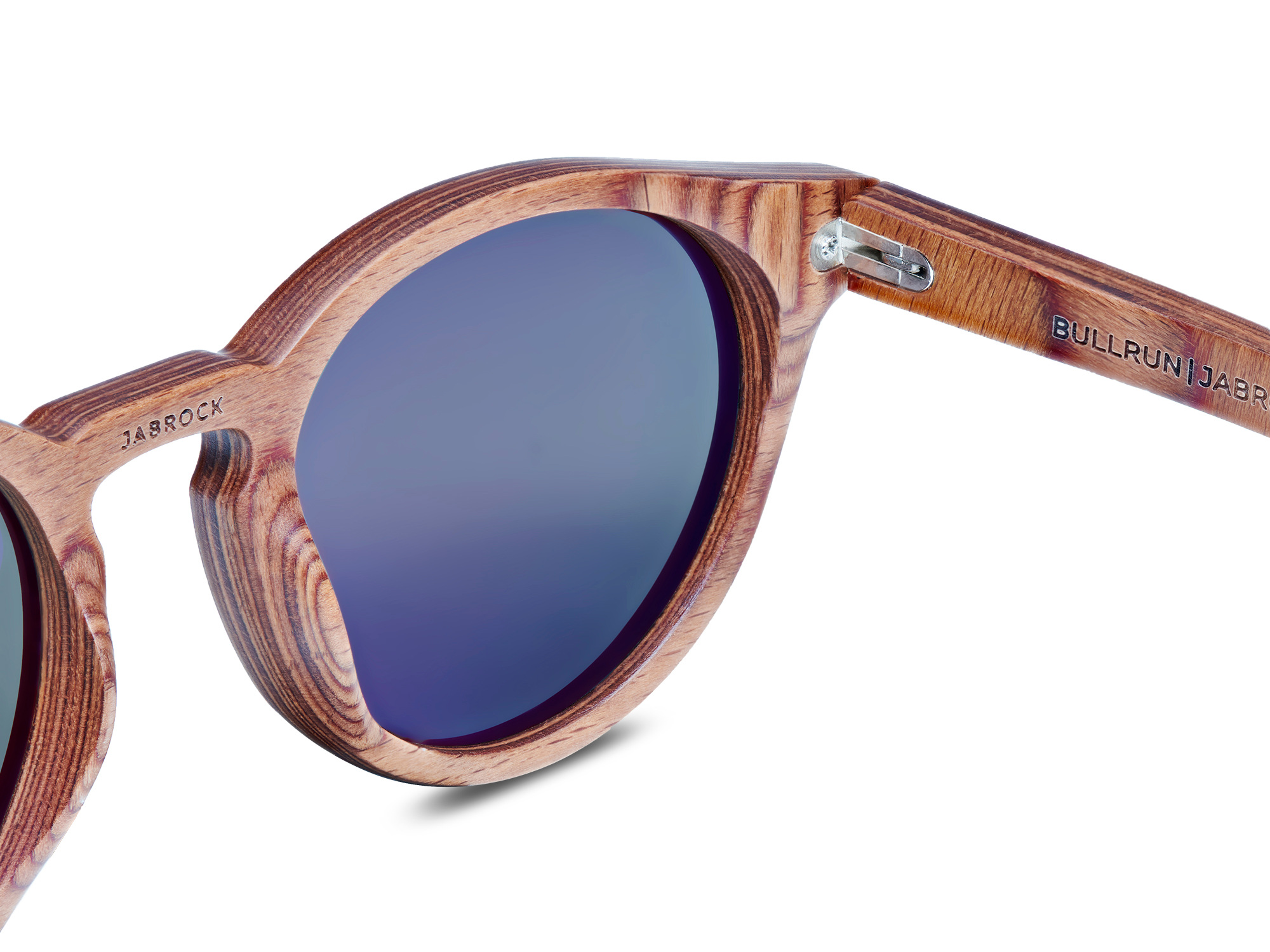 Hand Crafted / Unique Detail
The behaviour of natural wood means each piece develops its own characteristics in colour and grain, so no two frames are ever the same. Each one has its own individuality. Our frames go through such an extensive crafting process, it's not difficult to see why they're works of art in their own right.
Our frames are hand made and finished, piece by piece, so you can be sure your frames are one of a kind. We've done all this with engineering partners who work on supercars, not your ordinary specs.
Lens - CR39 with AR Coating
Jabrock glasses include high quality polarised lenses with full UVA/UVB protection. Technically, this means they restrict the vibrations of transverse light waves wholly or partially to one direction. Put simply, they reduce glare, especially around water or reflective surfaces giving supreme definition in sunny environments.
AR Coatings are applied to the inner side of the lenses to stop light reflecting off the inside of the lenses and into your eye. Our lenses have different colour AR coatings to match the filter of the lens.